Public policy professionals, rejoice! Policy-Insider.ai is rolling out exciting updates that will streamline your workflow and enhance your policy monitoring experience. Here's a glimpse into the latest improvements we've made to ensure you stay ahead in the ever-evolving world of public policy (see also: the pigeonholes are back!).
Introducing New Agendas Dashboards
Keeping track of multiple policy agendas can be daunting, but not anymore! We've introduced new Agendas dashboards, providing you with a comprehensive overview at a glance. Now, you can navigate through the complex landscape of public policy with ease and stay updated on the agendas that matter most to you. (free 30 days trial available)
Soon, we're enhancing our Agendas section by adding more institutions, and we need your input! Help us tailor this expansion to your needs by suggesting institutions you want to see. Your insights are invaluable in shaping our services for the better. Join us in this exciting growth phase and reach out to us!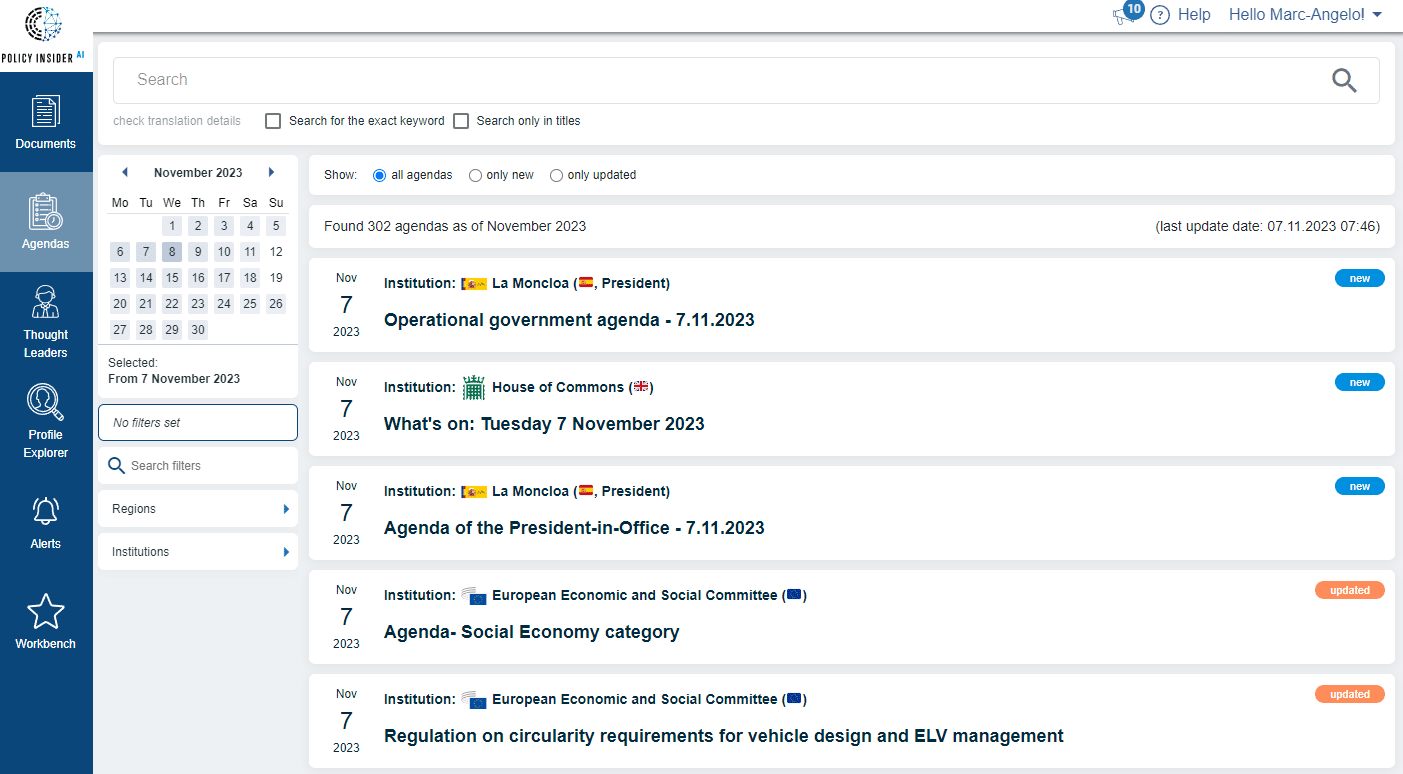 Twitter Data Replacement and Enhanced Documents Dashboard
While we've had to make the tough decision to remove Twitter data from our platform because of X/Twitter's new API policies, we've compensated by enhancing our Documents dashboard with powerful agenda components. This integration ensures you have all the essential information without the noise, allowing for a more focused and efficient monitoring process.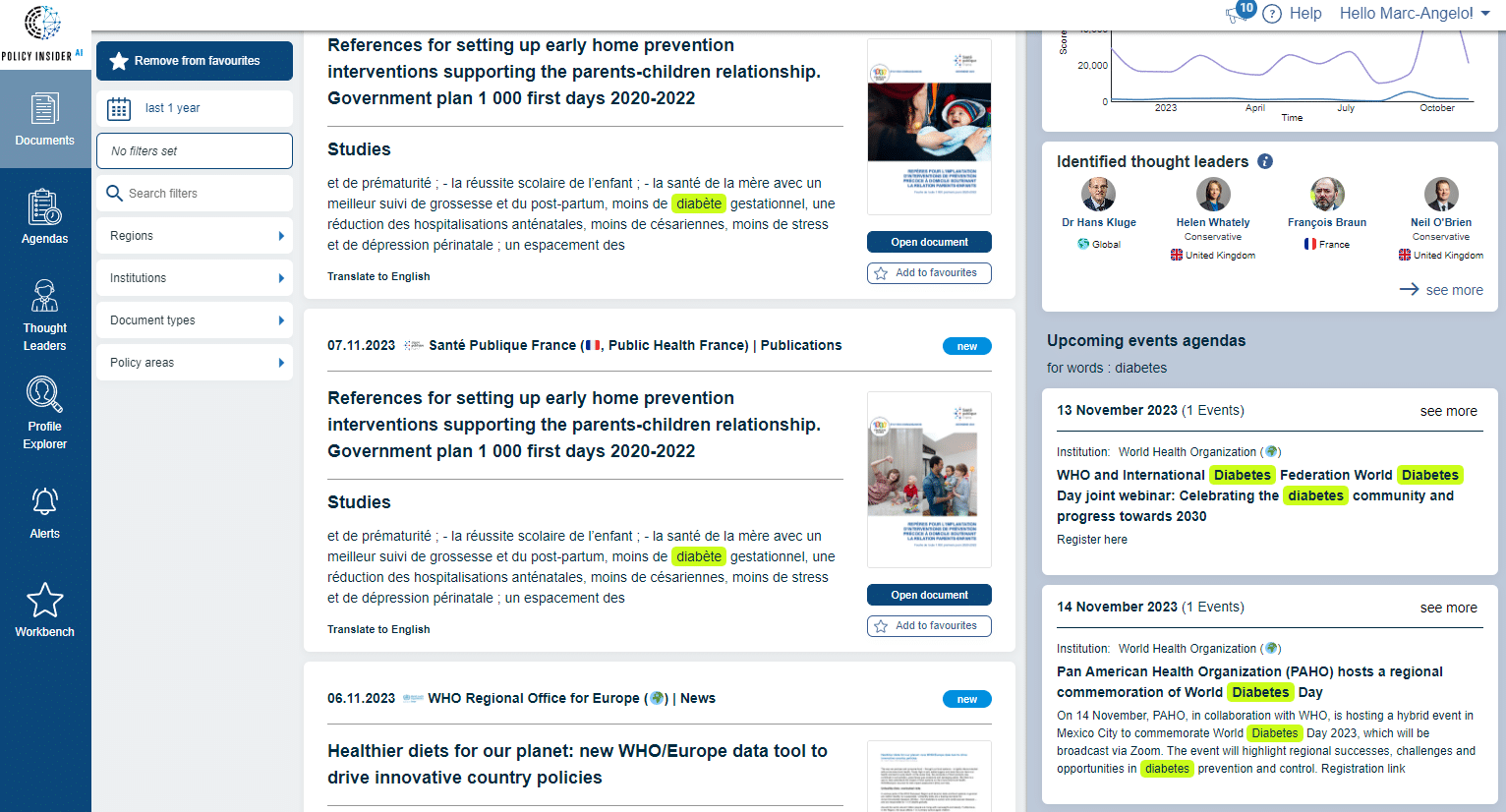 Advanced Search Options
Precision is key in policy monitoring, and our new search features embody just that. With options to search exclusively within document titles and a proximity search for multiple phrases, you can pinpoint the exact information you need. This level of specificity ensures that you're not just finding documents, but the right documents.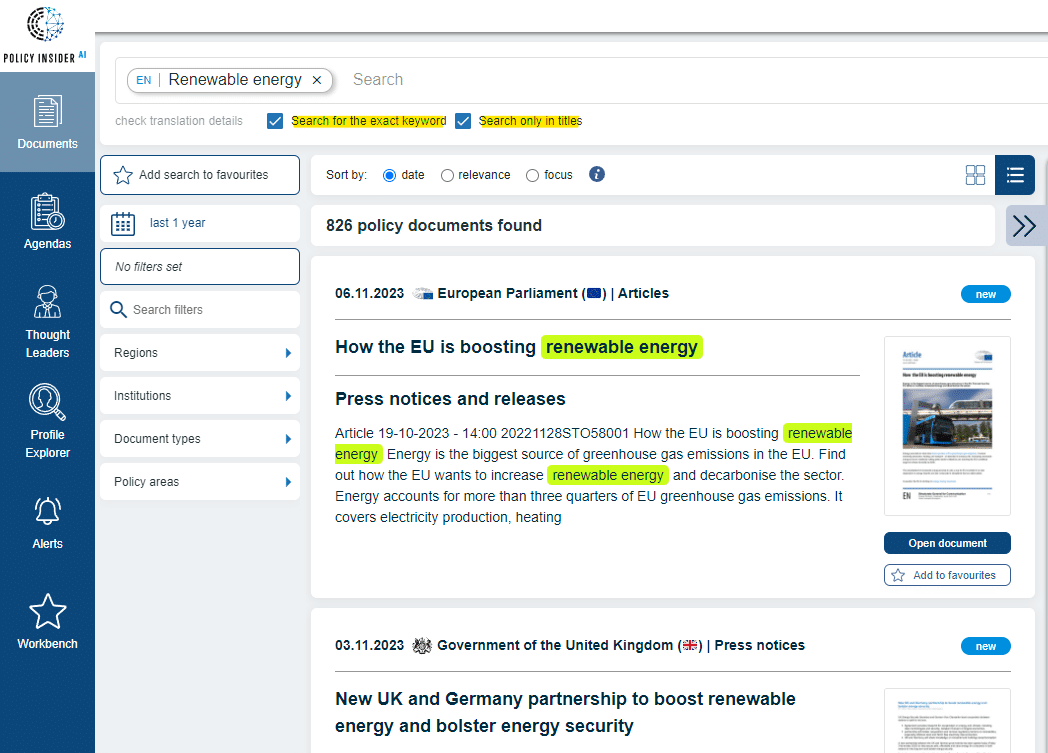 Redesigned Thought Leaders Section
Discovering insights from thought leaders is now more intuitive than ever. Our redesigned list view and hideable panel make it simple to access diverse perspectives and expertise. Whether you're deep-diving into detailed analyses or seeking quick opinions, the new layout caters to your individual research style.
Streamlined Profile Explorer
The Profile Explorer has undergone a transformation to become clearer and more in sync with the rest of our platform. Its user-friendly interface allows you to explore profiles with newfound clarity and cohesion, making your research process smoother and more productive.
Single Policymaker Profile View Overhaul with Summaries
We've completely overhauled our single policy maker profiles. Not only will you be greeted with a fresh design, but you'll also find handy summaries that provide quick insights into policymakers' positions and activities, as you already have seen them in the document view. This at-a-glance information is perfect for those needing to make swift yet informed decisions.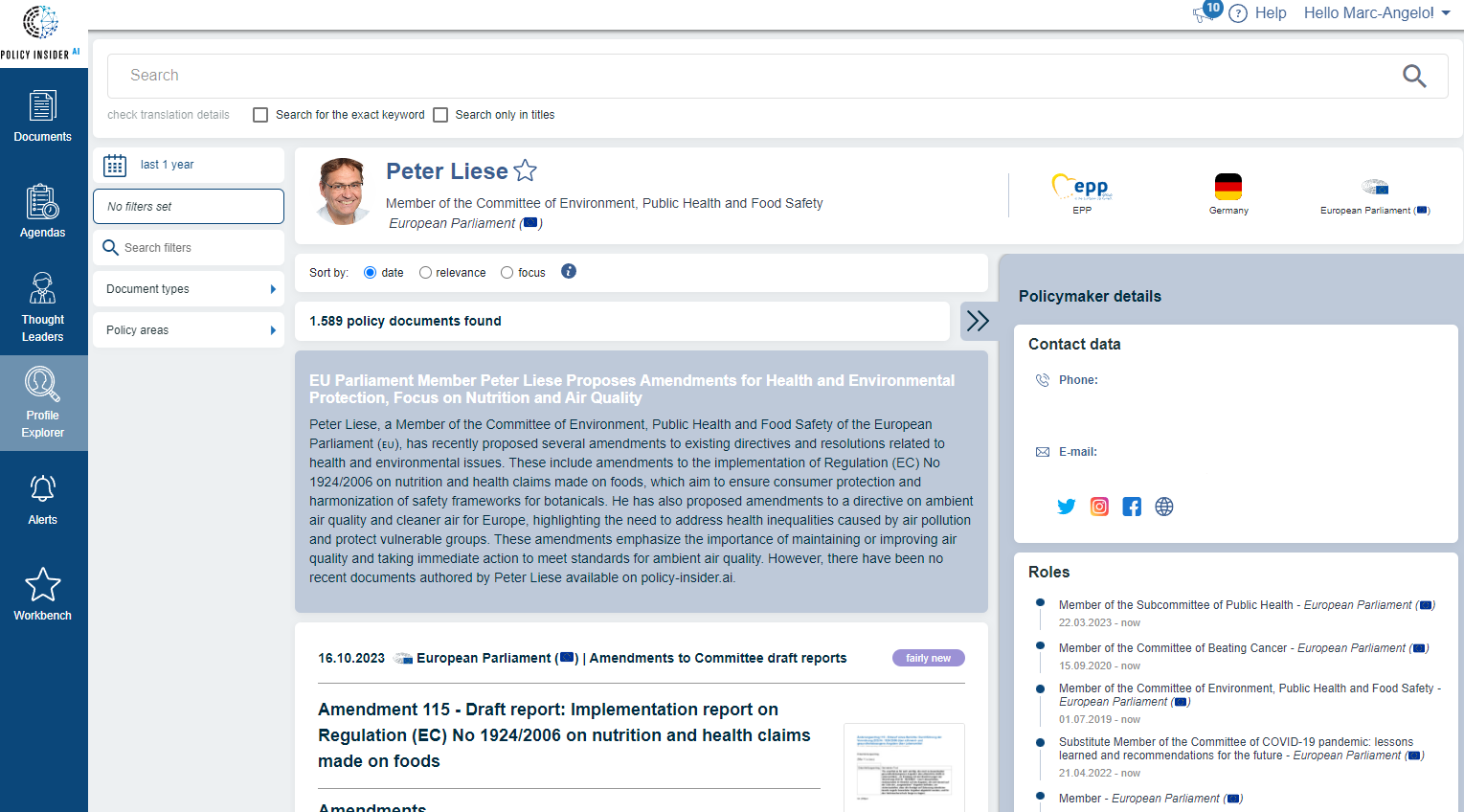 In summary, these updates at Policy-Insider.ai are all about making your life easier. We're committed to ensuring that public policy professionals have the most streamlined and efficient tools at their fingertips. Stay tuned for more enhancements, because just like the policies we monitor, we believe in continuous improvement and innovation, including the upcoming additions to more institutional sources to our platform.