Consider public policy monitoring as a race: the earlier you are aware of relevant developments, the more time you have to react. In the last 20 years, monitoring public policy developments has evolved from physically accessing pigeonholes for single institutions to digesting overwhelming online resources. It always remained a proactive task that required experience to optimize your timing. When is the best time to check the European Parliament Website? When does the European Commission usually publishes its press releases? When do you expect the answer to a parliamentary question in the Bundestag? When do you expect amendments to be tabled in the House of Commons?
If properly connected, you might receive an early heads up through your network, your consultant, etc… But can or should you rely on that?
"New Work" requires integrated public policy monitoring
In the post-covid era, workflows in public affairs have and will continue to evolve. Decentralized processes, teams spread across the country, flexible work times and location require you to re-think your public policy monitoring routines. If your policy monitoring fails, it might bring down months of work.
Policy-Insider.AI offers you an easy way to integrate public policy monitoring updates in your digital collaboration workflows.
We continuously scan public policy institutions (check our current scope here) for new publications and releases. If documents match your search criteria, you will receive immediate push notifications in your Microsoft Teams or Slack channels and you take it from there. Be it a legislative proposal, a statement in plenary, a press release, a PQ, its answer, a tweet, a study, a work paper …., you'll be among the first to know. Your public policy monitoring will become much more effective and reliable (at very low cost!)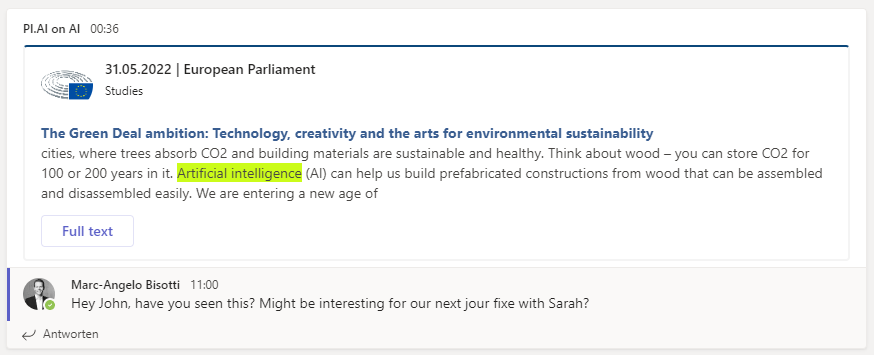 If you are already a policy-insider.ai user, please refer to these instructions to set up your push notifications with Teams or Slack.
Curious how you can use policy-insider.ai for your public policy monitoring?
Policy-Insider.AI is a browser-based knowledge platform that continuously collects and processes public policy documents from the relevant institutions. If you are interested in testing this, you can register for a free 30-day trial here. For a 30-minute personalised online demo, please contact us by using our contact form.